I remember when Nintendo first revealed Ring Fit Adventure in a bizarre teaser trailer in 2019. It didn't show a single second of gameplay footage. Rather, the trailer depicted groups of people gathered around each other, dripping in sweat, yelling and screaming as they wielded a strange-looking ring-shaped controller.
Little did I know that this would become Nintendo's next big hit. Now, 15 million copies sold later, Ring Fit Adventure is one of the best-selling Nintendo Switch games of all time.
Nintendo is no stranger to fitness games. I played countless hours of their 2007 mega-hit, Wii Fit, and its follow-up Wii Fit Plus, both of which helped kick off the so-called "exergame" boom, bolstered by the massive popularity of the Wii. But since then, Nintendo has largely backed off from the genre; Wii Fit U, which was released on the ill-fated Wii U console, was much less successful.
Ring Fit Adventure represents a shift in how fitness games are designed, thanks to our improved understanding of health and wellness. Wii Fit had placed a heavy focus on body weight and body mass index (or BMI), metrics we now know are limited in their ability to measure overall health (a fact that led to a lawsuit against Nintendo for calling people overweight). Ring Fit Adventure does things differently; it is designed first and foremost like a video game but still genuinely feels like a workout without the body shaming or even the pressure to play it regularly.
These aspects of Ring Fit Adventure, along with a host of clever UI/UX decisions, not only make Ring Fit Adventure one of the best fitness games ever made. It is, in my opinion, one of the most well-designed pieces of software Nintendo has ever created and a case study for how developers should approach fitness games in the future.
Those who regularly do Pilates might recognize Ring Fit Adventure's ring-shaped controller, also known as the Ring-Con. It is a glorified Pilates ring, which you can get pretty cheap on Amazon (great if you have family members who want to do Ring Fit Adventure exercises with you). Many of the exercises you do in the game are actual exercises you might do with a Pilates ring. The game tracks your movements using the built-in motion sensors of the Nintendo Switch Joy-Cons, which you attach to the Ring-Con and your leg via a leg strap.
From a gameplay perspective, Ring Fit Adventure can be best described as an on-rails, turn-based RPG. That is, you progress through each level by running in place and interacting with the environment in various ways, like squeezing and pulling on the Ring-Con. Along the way, you will encounter rows of enemies, and each enemy encounter has you completing exercises to deal damage until the enemies are defeated.
This structure makes Ring Fit Adventure feel much more like a video game than Wii Fit. Wii Fit felt like a fitness tool with game-like elements, while Ring Fit Adventure feels like a game with fitness elements.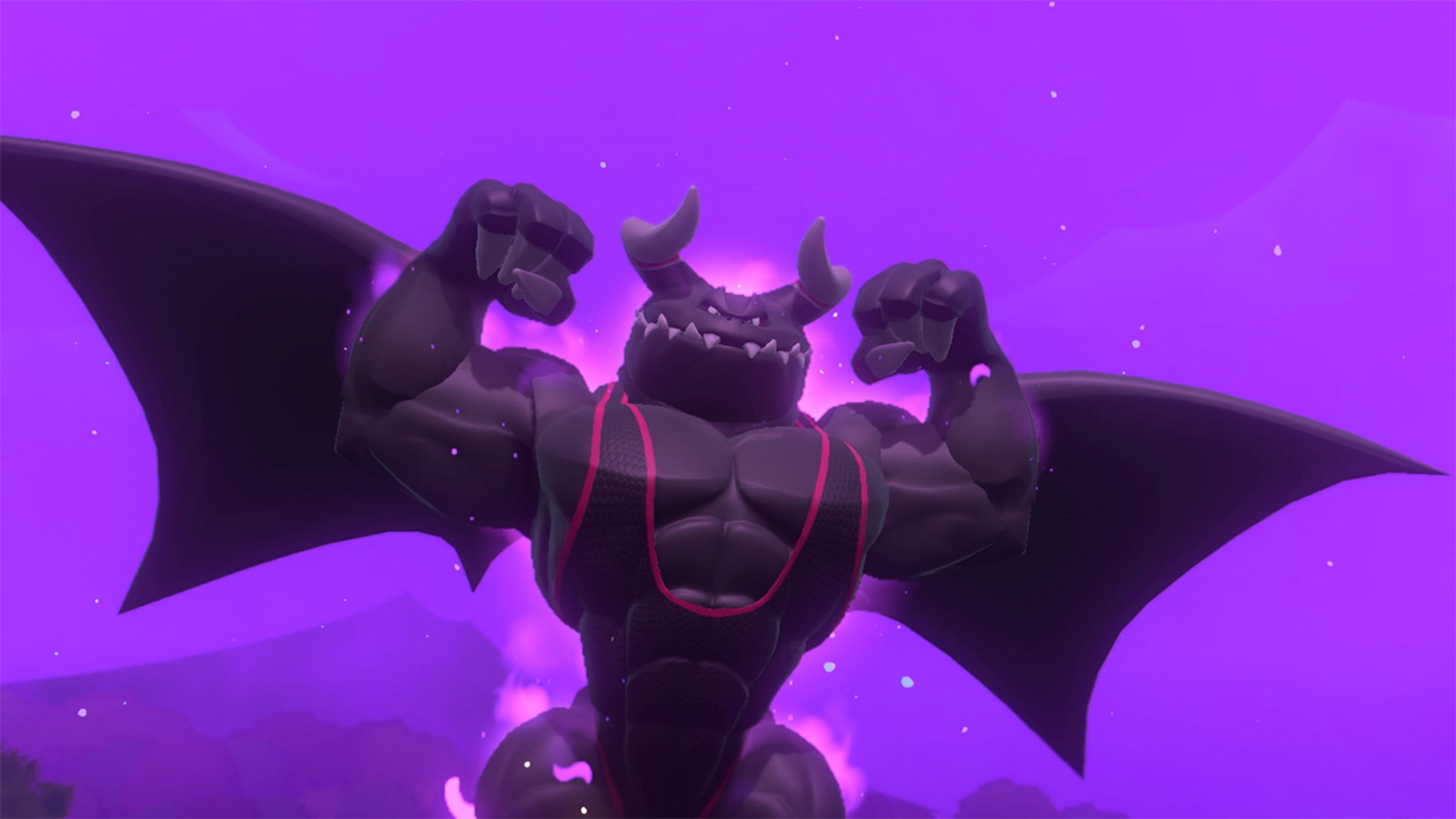 There is no better way to illustrate this than how the game approaches its cast of characters. Whenever you start the game's main "Adventure" mode, you are greeted by Tipp—a silent, generic avatar figure—and a nameless narrator who guides you through some stretches. Tipp is used throughout Ring Fit Adventure to demonstrate how to perform the game's various exercises, but the narrator only ever appears during warmups and cooldowns. While you are in the main game, most of the talking is done by Ring, a personification of your Ring-Con, as part of the game's story.
This separation of characters is an interesting approach. It distinguishes between the actual "Adventure" portion and the rest of the game, though the presence of Tipp helps tie the two together. Ring takes the role of a fitness partner, and the narrator acts as a largely hands-off fitness coach.
The fact that the narrator appears so sparingly made me forget sometimes that I was playing a fitness game. If this were Wii Fit, the narrator would likely have been featured in a more prominent role, with Ring being little more than a side character. But unlike Wii Fit, Ring Fit Adventure does not track your progress in any meaningful way; there is no measuring your weight or BMI, no stamps to put on your calendar to ensure you are playing every day. If you skip a few days, the most the game asks of you is if you would like to lower the difficulty (which only affects the number of repetitions you need to do for each exercise). Otherwise, you can pick it up and put it down like any other video game.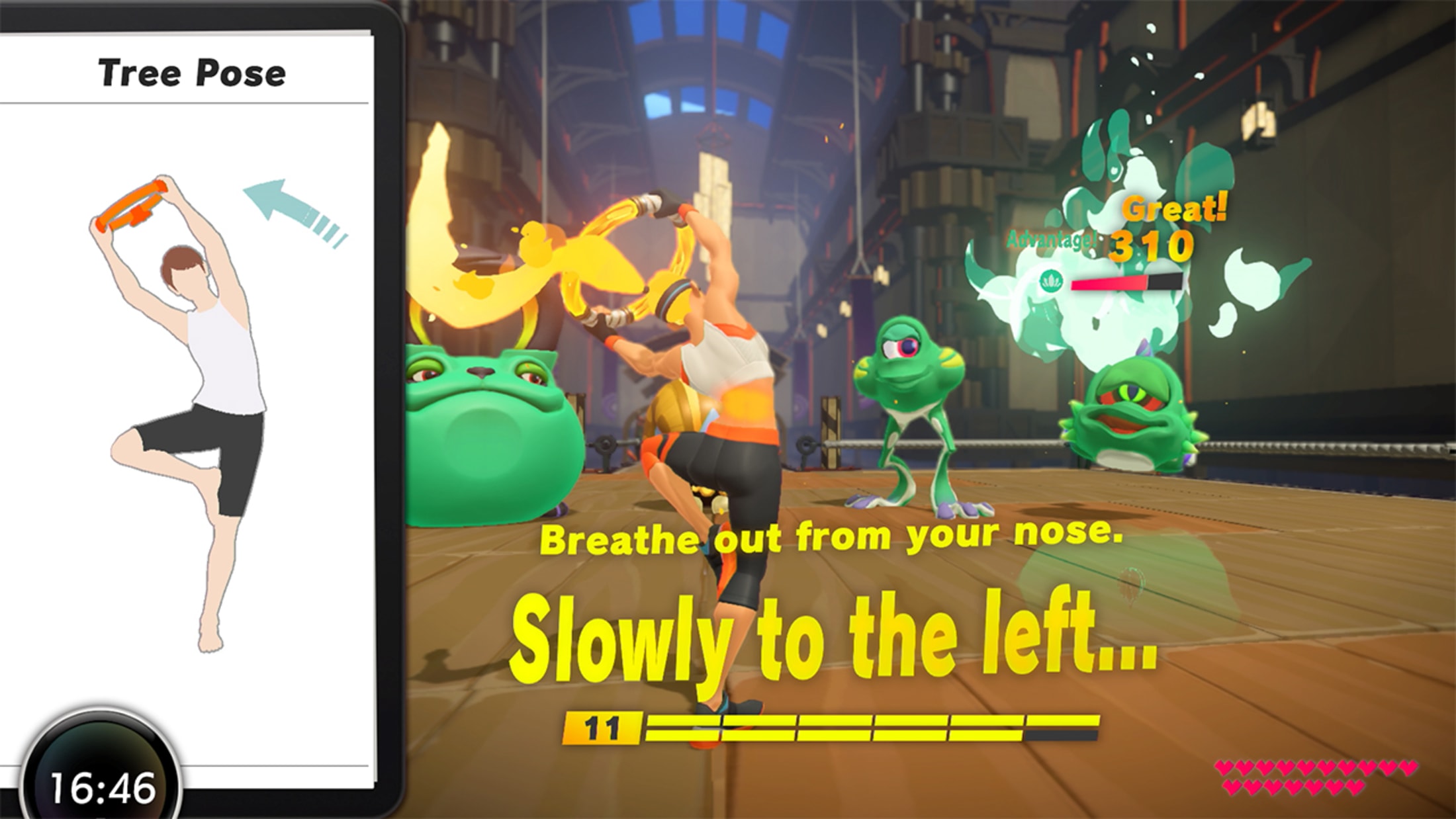 When you are not actively exercising, navigating through Ring Fit Adventure's menus is possible by interacting with the Ring-Con. It's pretty intuitive; selecting a menu item is done by rotating the Ring-Con left and right like a steering wheel, or similarly up and down. While the steering wheel in your car likely does not rotate vertically like this, it is a natural extension of the steering wheel analogy, which makes the up-and-down motion feel surprisingly intuitive.
The same can be said about going into and out of menus. Selecting a menu item is done by pressing in on the Ring-Con, analogous to pressing a physical button. Navigating out of menus is done then by pulling out on the Ring-Con, and while there is no useful button analogy here, it is again intuitive given the opposing nature of the pressing and pulling motions.
But perhaps the most impressive thing about Ring Fit Adventure is that it feels like an actual workout. My first session of Ring Fit Adventure was brutal, and if you do not exercise regularly, it will likely feel the same for you. The game measures how long you are actively moving during each session, and only after exercising for a total of 10 minutes will it ask you if you would like to finish for the day. Again, this does not include breaks or navigating through menus; this is 10 minutes of actual exercise.
Still, there are ways to make the game easier for you. You can drink smoothies to increase the power of your attacks. There is gear you can equip to raise your stats. If the game is too hard, you can manually lower the difficulty or increase it to give yourself more of a challenge. In other words, there are many ways to customize the game to suit your skill level, and the fact that they are baked into the game as mechanics means you won't feel bad using them.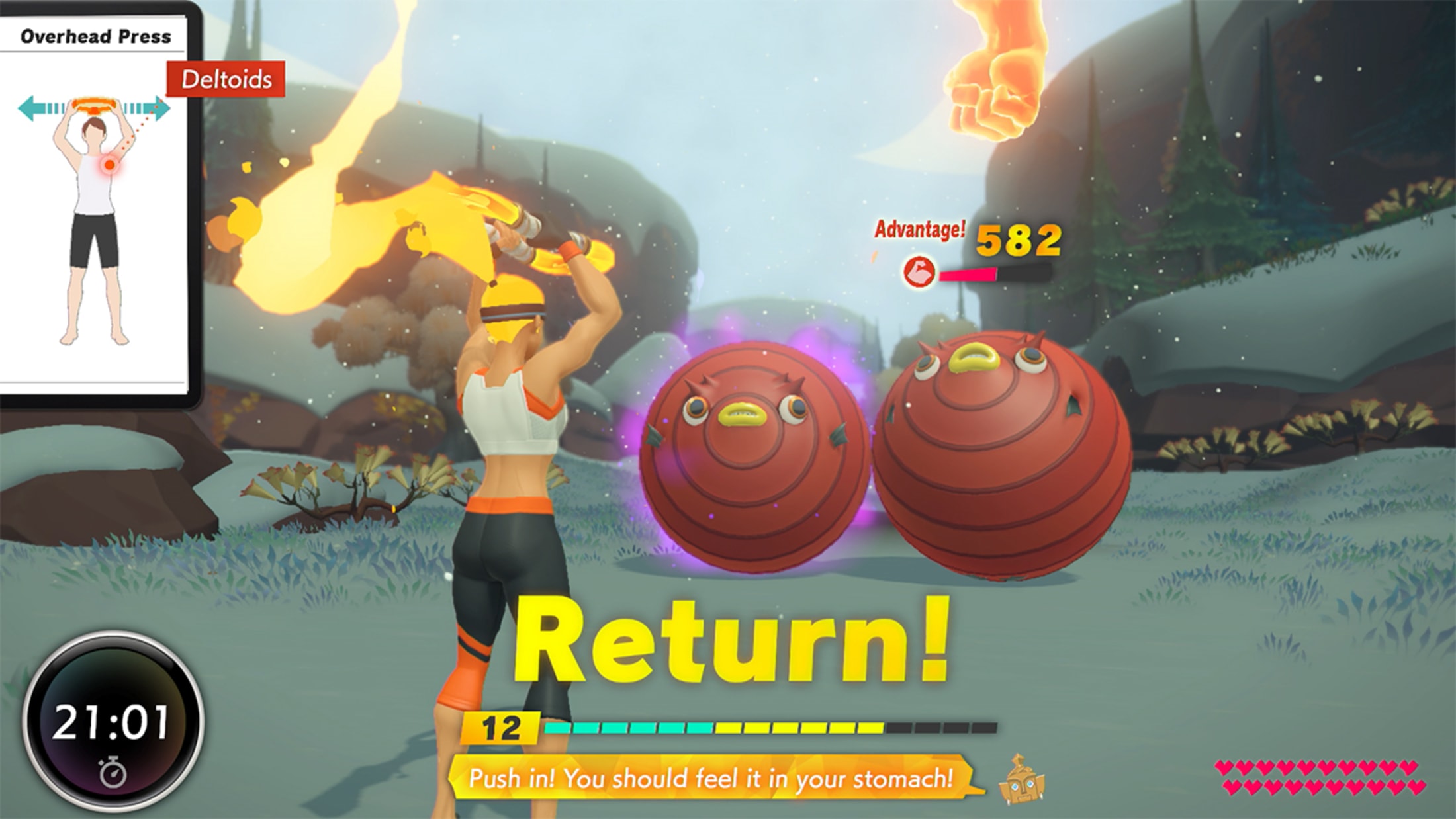 It is clear who the intended audience of this game is. It was made for people who want to exercise in their homes but do not have access to a gym or space for fitness equipment. In Japan, this is the norm. But in 2020, it also became the norm for millions worldwide as the global COVID-19 pandemic hit. It was one of the reasons I got Ring Fit Adventure in the first place; the gym I frequented previously was now closed, and with no end to the pandemic in sight, I needed something to keep me active.
But for me, Ring Fit Adventure became much more than an exercise tool during the pandemic. In 2020, I was diagnosed with cholinergic urticaria. It is an incurable skin condition that causes my body to break out in hives when my body temperature goes up. It means I cannot exercise unless in a controlled environment, where I can put the air conditioning on blast and take extended breaks if needed. That also meant I could no longer exercise at the gym, and on some hot summer days, I couldn't even go outside for walks. Moreover, I live in a tiny apartment in New York City, so buying exercise equipment wasn't ideal.
So, I spent most of my gym days playing Ring Fit Adventure instead. In 2020, I wrote this about the game:
"Ring Fit Adventure expertly combines light RPG elements with real-world exercises to create a unique gaming experience that is sure to work up a sweat. The game never stops pushing new ideas, introducing activities and obstacles at every juncture, guaranteeing that no two sessions feel the same. Various mini-games break up the pace and offer up a fun challenge outside of the main adventure. If you're looking for an innovative way to exercise at home, Ring Fit Adventure is an easy recommendation."
I still agree with my little review, though I hope to see a few aspects of the game improved in either an update or a sequel. The game gets repetitive after you have unlocked everything, and I wish the social elements were more robust. Also, the Dreadmill mini-game is awful; it is as if the game wanted to remind us of how bad these types of mini-games were back in the Wii Fit days.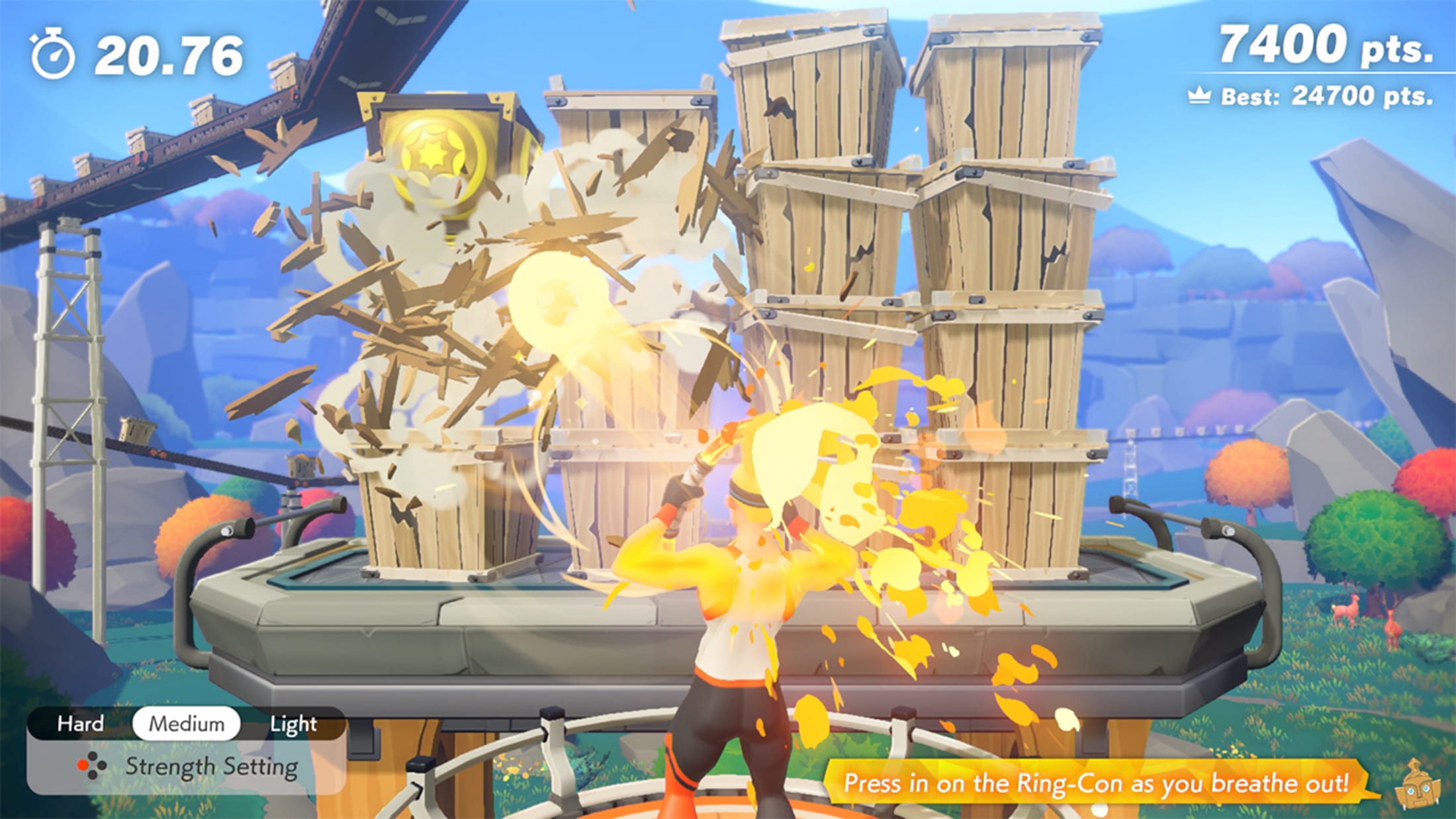 As far as I can tell, despite Ring Fit Adventure's success, there is little evidence of exercise games making a comeback. But if they do return one day, I hope Ring Fit Adventure can become the blueprint. We have come a long way since Wii Fit, and if Ring Fit Adventure is any indication, the future is bright.